Tips and Tricks: So you want to have kids at your wedding…
Tips and Tricks
Some tips for having children at your wedding
Having kids at your wedding can be an amazing or stressful thing. Having 2 beautiful kiddos of my own I know the complete joy and also utter chaos they can bring to an event! So here are a few tips to help prepare you if you have decided to have children at or in your wedding.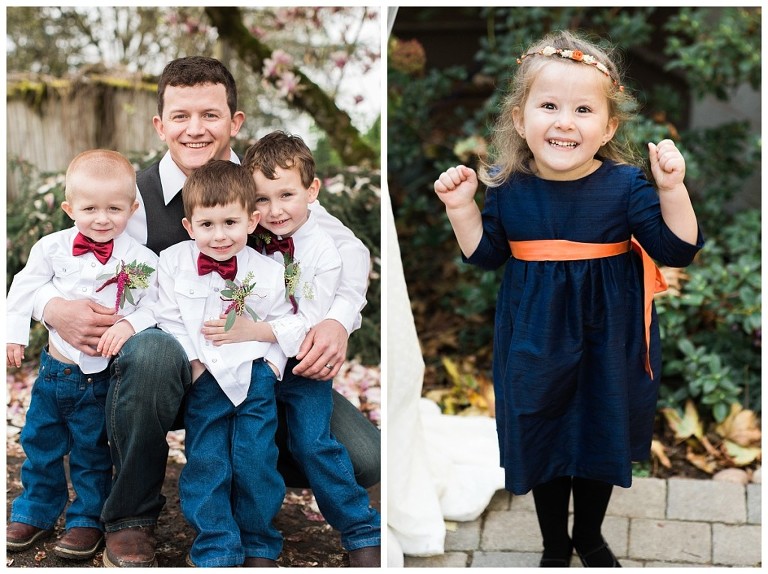 – REMEMBER THAT THEY ARE JUST KIDS! Try to not expect much. Your wedding day and the days leading up to your event are often long and filled with stress. But sometime we can all forget that those days are even longer for kids. If they don't want to walk down the aisle perfectly like they did the night before, it's really ok! I am pretty sure no one expects any flower girl or ring bearer under the ago of 5 to do everything perfectly! Most guest (including myself!) love to see the cute things that kids will do. It won't ruin your wedding, it will just make it more memorable for everyone.
– HAVE SOMEONE IN CHARGE.  If the parent or parents of the kids are in the wedding party, having someone like a grandparent or trusted sitter to help during the day will be a huge help to any parent. Trying to be the best Bridesmaid or Groomsmen that you can be and also chasing after kiddos can be a challenge. Knowing that kids are well taken care of and safe will relieve a ton of stress from any parent and allow them to enjoy themselves and be more helpful throughout your wedding day.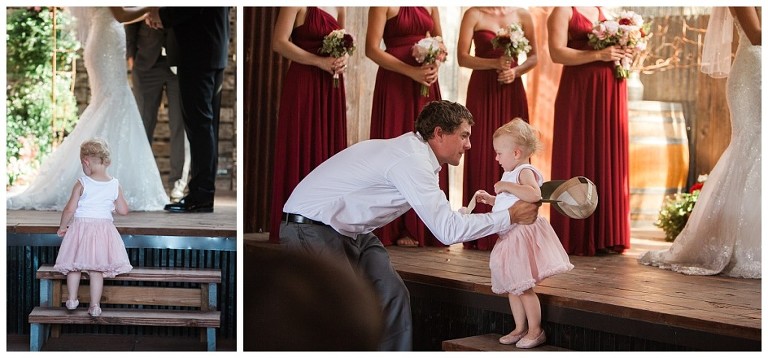 – PACK SNACKS! Ok, Ok call it bribing, enticement or whatever you want. If you dangle a cookie, fruit snack or anything shiny over a camera almost any child will look at the camera. So make sure to pack a good amount!
This Bride and Groom were thinking ahead when they placed suckers and water for their little ring bearer and flower girl at the altar. It kept them entertained, happy and well hydrated for the whole ceremony!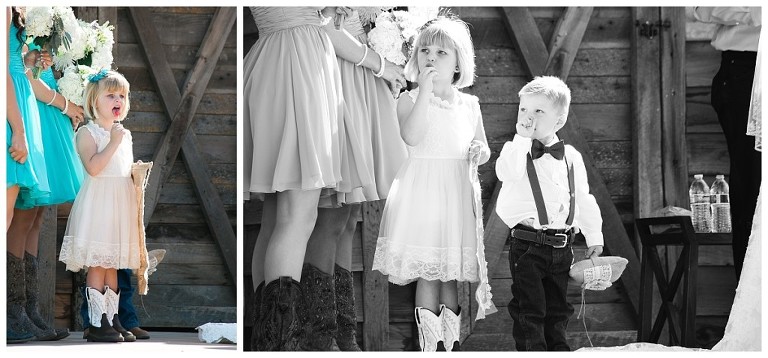 – WAIT UNTIL THE LAST POSSIBLE MINUTE TO GET THEM DRESSED. Most kids can't make it through a whole day without getting something on their outfit. Who am I kidding! Most days I can't either! But with the added stress of needing to look extra handsome and princess like and only having ONE outfit to walk down the aisle in, it's best to put it on right before they step out to do photos or walk down the aisle.
– MAKE A "KIDS SPACE". If you don't want kids running wild, make a space for them. Have a table full of activities and fun things for them to do. Consider hiring someone to help the kiddos create fun masterpieces or someone to entertain them for the evening. If they do want to run wild, send them out to the dance floor so everyone can get some entertainment and good laughs from them!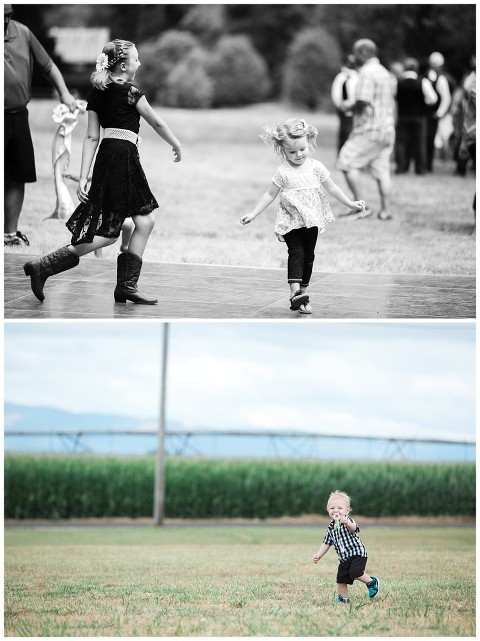 – SAFETY FIRST. Safety is always a huge concern for any parent. Remember to take this into consideration when you are picking your venue. If you choose a spot that has access to water or is on a busy road, maybe make sure to tell parents with little ones ahead of time so they can be prepared. I have been to many wonderful venues who have been so kind to think of children and have a gated play space specifically for children. Also, I know burning candles everywhere are beautiful and can set the mood perfectly. But all children see is something that they need to touch. Keep this in mind when you are thinking of your decor.
 I hope this helps a bit when you are planning your wedding. If you have any questions or want to talk to me about your wedding day, feel free to drop me a line! I would love to chat with you!